Providence turned 7. It's been a weekend full of celebration.

Thursday: Haircut
Friday (actual birthday): movie date with mama
Saturday: dinner and presents with Isaiah's family
Sunday: cupcakes with my brother and family.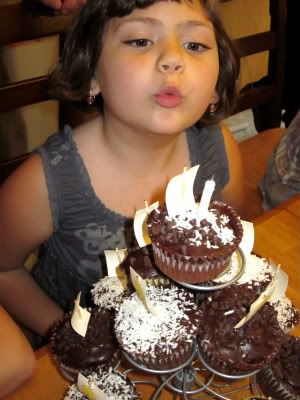 I made chocolate zucchini cupcakes with the girls and they are so delicious! If you have as much zucchini in your garden as we do you need to make them. Right. Now.
Makes 24 cupcakes:
Cake:
1/2 cup vegetable oil
1 1/2 cups white sugar
2 teaspoons vanilla extract
2 cups all-purpose flour
1/2 cup unsweetened cocoa powder
1 1/2 teaspoons baking soda
1 teaspoon salt
2 cups shredded zucchini
1 cup semi-sweet chocolate chips
Frosting:
6 tablespoons unsweetened cocoa powder
1/4 cup butter
2 cups confectioners' sugar
1/4 cup milk
1/2 teaspoon vanilla extract
Preheat oven to 350 degrees. Line a standard muffin tin with paper cupcake liners.
In a large bowl, mix together the oil, sugar and 2 teaspoons vanilla until well blended. (Looks kind of like moist sand).
Combine the flour, 1/2 cup cocoa, baking soda and salt; stir into the sugar mixture. Fold in the zucchini and chocolate chips. Scoop evenly into 24 cupcake liners.
Bake for 20 minutes in the preheated oven, until cupcakes spring back when gently touched. Cool completely before frosting. (I made them the day before).
To make the frosting, melt together the 6 tablespoons of cocoa and butter; set aside to cool.
In another bowl, blend together the confectioners' sugar, milk and 1/2 teaspoon vanilla. Stir in the cocoa mixture.
Spread (or if the frosting is still a little warm you can dip them) over cooled cupcakes. Top with mini chocolate chips or coconut (or whatever else your little heart desires).
I have made this recipe sans frosting and it is still wonderful.