A ways back I decided to begin school with Providence this year, I thought I would just do this and that daily to start with. Well "this and that" was short lived...getting smaller and smaller till it faded completely away (shame on me, I know).

When talking with my sisters about my frustration they strongly encouraged getting a complete curriculum (more for me then Providence), that way I'd have lesson plans and such. I'm a lister, always have been and probably always will be so this sounded fantastic. Well today was our first day and may I just say Providence was soooo ready for this. She loved it and so did I, I felt like I was playing school in second grade and it was very satisfying.

For writing (since it still seems to be hard for Providence) we made letters out of play dough, I was really happy with how hers came out and so was she...then I had her spend 10 quiet minutes coloring in a book and wonder of wonders SHE STAYED IN THE LINES, for the most part anyhow, you can clearly see it's colored and not just scribbled over (which is how nearly all her "artwork" had been in up till now). Seriously one day of school and this, call me crazy but I could see marked improvement from the beginning of the picture to the end.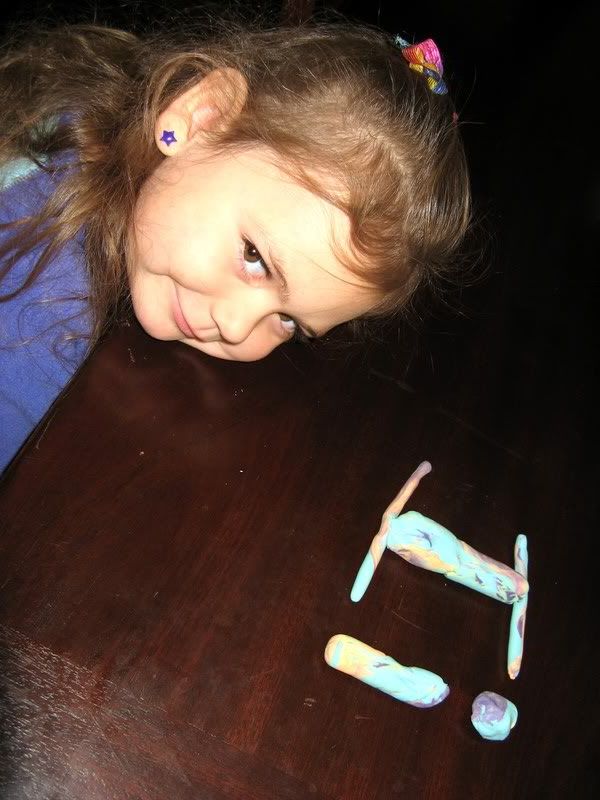 I love lesson plans, I love having a list, I love coloring in the lines.